1M Food Deliveries Completed through Ride United
Blog Author: Teresa Lange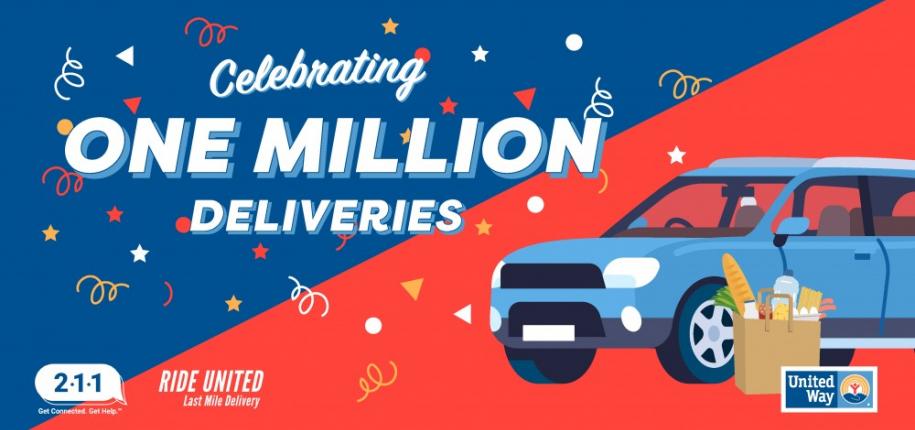 Sun-ripened heirloom tomatoes, mayonnaise, salt, and crushed black pepper on fresh white bread. To me, this is the epitome of a midsummer meal – simple and undeniably delicious. But as tomato season winds down this year, I find myself reflecting on the passage of time a little more than normal. These past few years have been heavy, and this heaviness seems to continue to hang over us as a nation. Without shying away from this collective weight, I have been looking hard for things to celebrate these days. Whether this is celebrating a tomato sandwich or something bigger, I've been trying to find the things that highlight the good around us.
Fortunately, I didn't have to search hard for a major milestone celebration! United Way, the 24-7 resource that is 211, DoorDash, and hundreds of local partners across the country recently completed 1 million free deliveries of food and essentials since 2020 through Ride United: Last Mile Delivery. This was the result of much hard work providing free deliveries (powered by DoorDash) of food and essential items for 55,000+ neighbors across 36 states. More than 50 United Ways and 211s have partnered with 800+ community partners to identify people who need food and other essential items delivered.
Each United Way and 211 adapts Ride United: Last Mile Delivery locally – often identifying people who are not yet connected to service providers – by partnering with other nonprofits, faith-based organizations, schools, and other local agencies to secure free items that can be delivered to people in need. Together, these partnerships have sourced and delivered more than an estimated 13-million free meals as well as tens-of-thousands of mental health kits, weather appropriate goods, disaster preparedness supplies, pet food, caregiving and senior supplies, period products, and more.
Ride United: Last Mile Delivery has grown dramatically since its initial pilot – from roughly 200,000 deliveries in 2020 to this 1 million delivery milestone. When the program first launched, we could not have predicted the significance of this work or just how important it would be in United Way's response to the COVID-19 pandemic. With DoorDash's overwhelming support and donations from numerous national and local partners, including PetSmart Charities, we have been able to provide this program at an impressive scale.
It's benefitted more than 55,000 people, including Derrick in Reno, NV, an older man who just completed treatment for colon cancer. Derrick and his wife are homebound, at least for now, and a visiting nurse is still coming to check on Derrick to provide any necessary medical support. This same nurse visits another patient who is a client who is enrolled in the Ride United: Last Mile Delivery program at St. Francis of Assisi Food Pantry. After seeing the amount and quality of food their other patient had received from the program, the nurse promptly contacted St. Francis of Assisi Food Pantry to ask if she could enroll Derrick in the program.
As a staffer from St. Francis of Assisi Food Pantry recalled, "Of course, we did! Derrick is now delighted to be receiving a monthly delivery of healthy food and was very grateful for the assistance. Since Derrick and his wife rarely leave their home, this grocery delivery program has been a huge help to both of them and is making a difference in his nutrition as he recovers from cancer. We couldn't be happier to help!"
The dedication, time, and resources invested into this program by United Way, 211, DoorDash, and hundreds of local partners like St. Francis of Assisi Food Pantry can't be overstated. Ride United: Last Mile Delivery has been a compelling example of a solution catalyzed by the pandemic, and it has since broadened access for tens-of-thousands of people like Derrick, addressing long-standing issues with food and transportation access across the United States. I hope you'll join me in celebrating Ride United: Last Mile Delivery's one-million delivery milestone with something that brings you comfort and joy – tomato sandwich or otherwise – because it is definitely worth commemorating.